Inclusion
Private Tour Package (100% Tailor-made)
Transport in an Air-Conditioned Vehicle with an accompanying English speaking Chauffeur Guide
Daily Breakfast & Dinner as Specified above 7 days accommodation
Double, Twin or Triple Rooms as required by the traveler
All Government taxes and service charges
All Parking, taxes and fuel charges etc.

Exclusion
Early check-in & Late check-out
Entrance/excursion fees to the places mentioned in our itinerary
Tips and other expenses of a personal nature
Visas and travel insurance
Spending money – budget for meals, snacks, drinks, limited souvenirs, laundry, tips and any extras
International flights to/from the start/end of your tour and departure taxes

Attraction
Anuradhapura Cultural City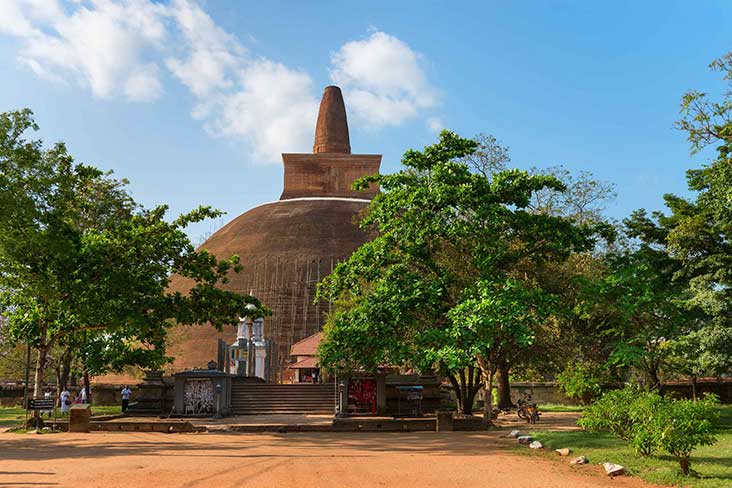 Ruwanweliseya, Sri Maha Bodiya, Jetavanaramaya, Abhayagiriya
Anuradhapura is the most celebrated of Sri Lanka's ancient ruined cities. The city's greatest treasures are its dagabas constructed of small sun-dried bricks and hemispherical in shape. The most notable of these dagabas are the Ruvanveli which dates back to the 2nd Century BC and is 3 00ft in diameter, the Jetawanarama is 370ft and the Thuparama which enshrines the collarbone of the Buddha. The city's most renowned relic is the sacred Bo-Tree which is said to have grown from a branch of the tree under which the Buddha gained enlightenment. It was planted 2250 years ago and is the oldest historic tree in the world.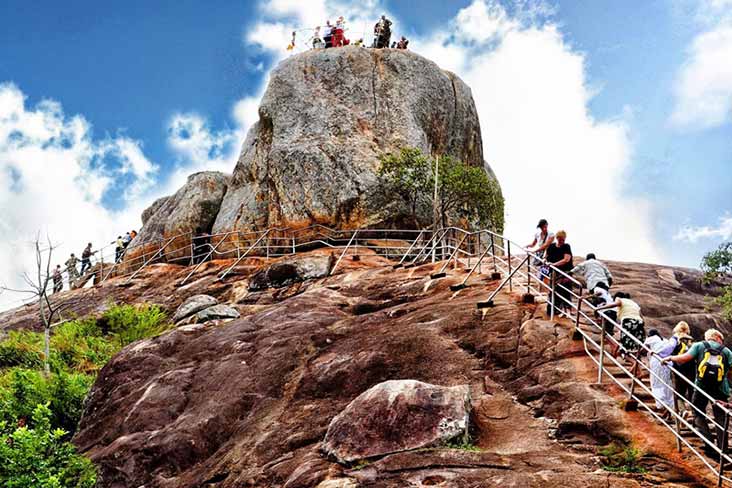 Ambasthala Stupa, Ruins, Kantaka Chetiya
Mihintale is a mountain peak near Anuradhapura in Sri Lanka. It is believed by Sri Lankans to be the site of a meeting between the Buddhist monk Mahinda and King Devanampiyatissa which inaugurated the presence of Buddhism in Sri Lanka. It is now a pilgrimage site, and the site of several religious monuments and abandoned structures.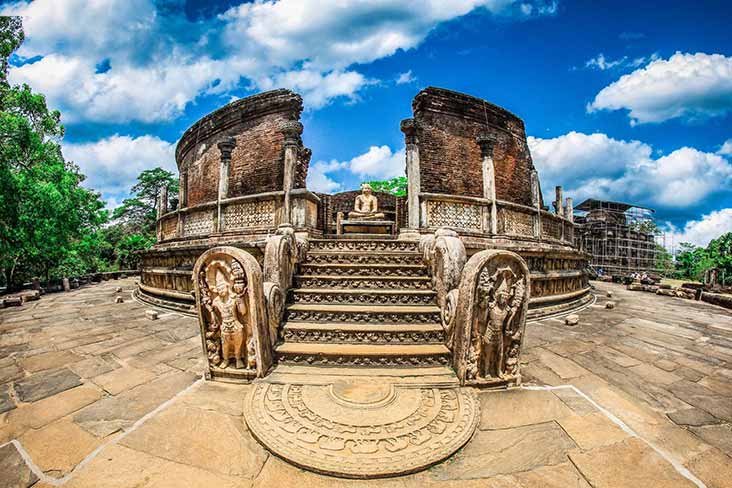 Watadageya, Gal Viharaya, Parakrama Statue
Polonnaruwa the second capital of Sri Lanka from 1017 A.D to 1235 A.D. Polonnaruwa is also a UNESCO world heritage city. You will be able to see the ruins of Royal Palace king Parakramabahu, Audience Hall, the statue of king Parakramabahu, Watadage, the Galpotha, Parakrama Samudraya (Sea of Parakrama) which was built by King Parakramabahu I, covers an area of 5940 acres and the elegant Lotus pond was built in 12th century.
Sigiriya Rock Palace (Lion Rock)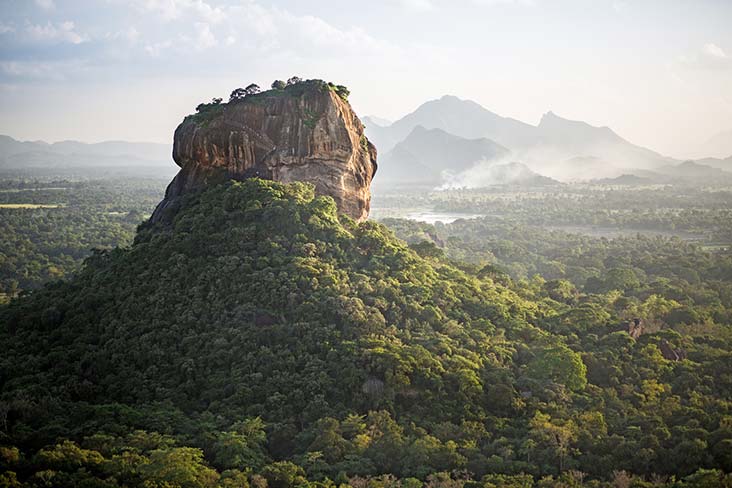 Sigiriya Lion Rock, Museum
Sigiriya is treated as one of the most remarkable creations in the world, built by King Kashyapa (477-495 AD). Path through the gardens along Stone stairways come to the Lion Gate. Only the rock carving and the brick structure is evident today of the lion's mouth through which millions of people have walked to admire the beauty of this magnificent citadel.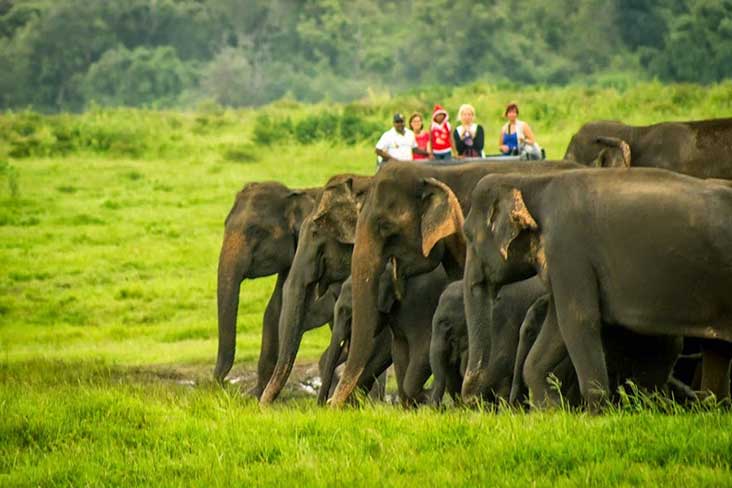 Minneriya National Park
Minneriya National Park is situated in the north-central plains of Sri Lanka, 20 kilometers from Polonnaruwa. Even though it is one of the smallest national parks in the country, covering just 8,889 hectares, it's a paradise with many natural wonders. The park encompasses the beautiful Minneriya tank, built by King Mahasena (in 3rd century AD). This tank is an incredible place to observe the elephants that come to bathe and graze on the grasses as well as the huge flocks of birds (cormorants, painted storks, open-bills, Pelicans and many other species of waders) that come to fish in the shallow waters.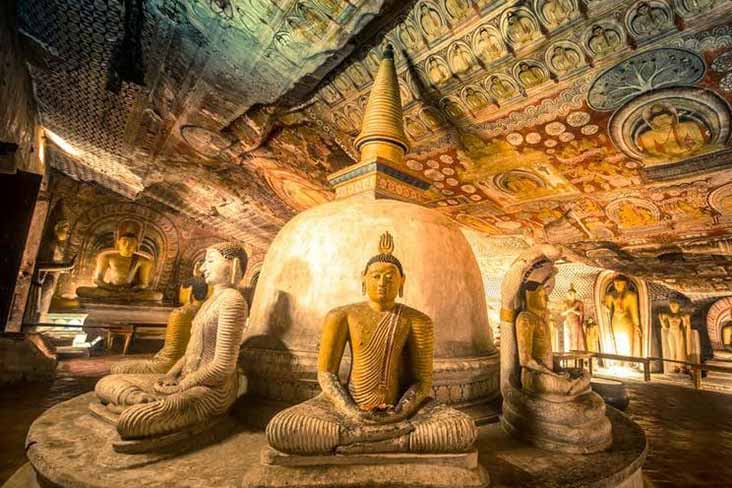 Golden Temple, Cave Temple, Museum
Dambulla Rock temple was built by King Walagambahu during the 1st Century B.C. Dambulla is a UENESCO world heritage site. There are more than 80 documented caves in the surrounding and the paintings are done on the ceiling. There are a total of 153 Buddha statues 3 statues of Sri Lankan kings and 4 statues of god and goddess.
Cultural Dance, Fire Item
The Kandy Dance cultural show is one of the most famous evening events in this city of heritage, and is a major highlight of any trip. Starting in the evening, show captivates your ears and eyes with spectacular displays of local culture and art. Covering various aspects of Sri Lanka's traditions, expect to see drummers, fire dancers, and more in a cultural spectacle that should not be missed.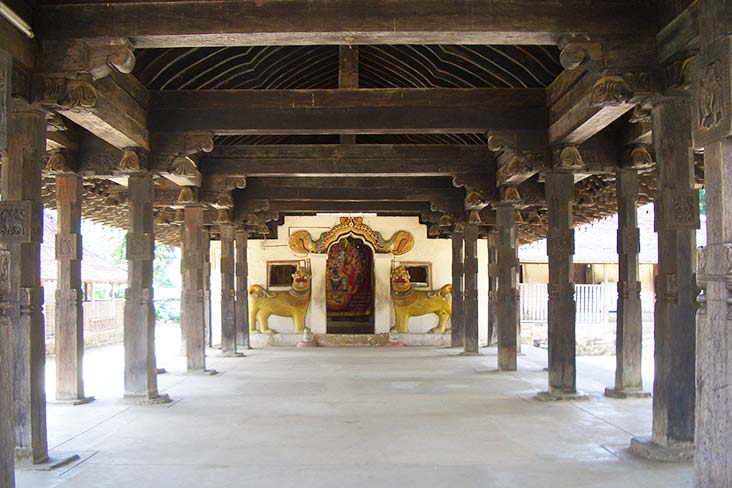 Devalaya, Wood Carving
The Devalaya in Embekka is dedicated to the worship of Mahasen, popularly known as Katharagama Deviyo. A local deity called Devatha Bandara is also worshiped at this site. The shrine consists of three sections, the "Sanctum of Garagha", the "Digge" or "Dancing Hall" and the "Hevisi Mandapaya" or the "Drummers' Hall". The Drummers' Hall that has drawn the attention of visitors to the site, due to the splendid wood carvings of its ornate pillars and its high pitched roof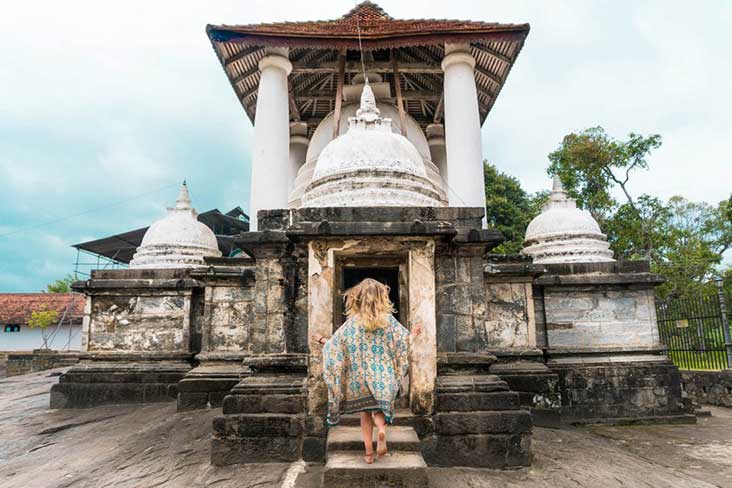 Temple
Gadaladeniya Temple is located at Pilimathalawa, Kandy. When you are driving from Colombo to Kandy, Gadaladeniaya temple road is at your right hand side. After taking that turn from Pilimathalawa, you have to travel another 2 km. The famous Embekke Devalaya and Lanka Thilaka Viharaya also located close by.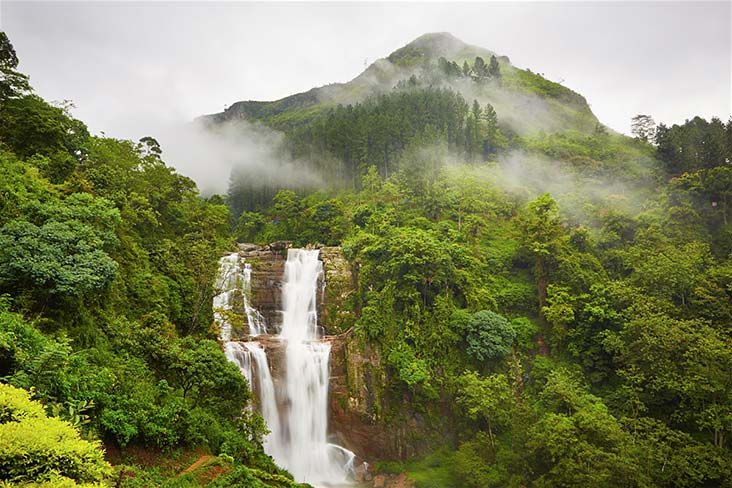 Waterfalls
Ramboda Falls is 109m high and 11th highest waterfall in Sri Lanka and 729th highest waterfall in the world. It is situated in Pussellawa area, on the A5 highway at Ramboda Pass. It formed by Panna Oya which is a tributary of Kothmale Oya. Altitude of the falls is 945m above sea level.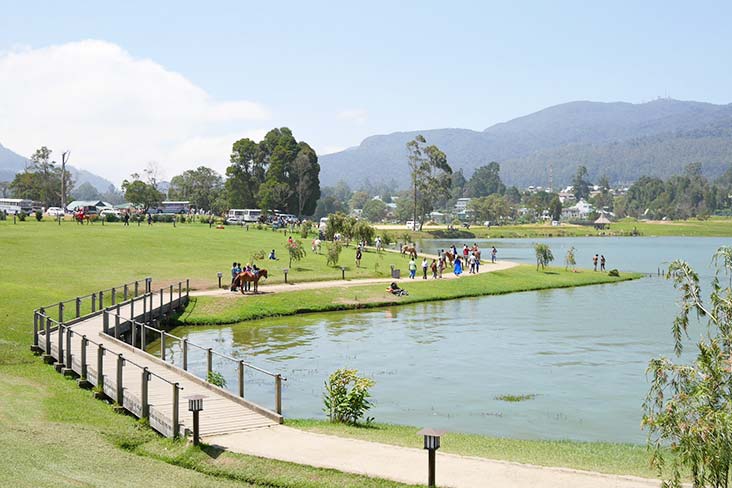 City Tour, Gregory Lake, Horse Ride, Golf Club, Victoria Park
Nuwara Eliya is located at the heart of the hill country 6182 feet above from the sea level. It is still very much like an old English town with styled Bungalows and buildings. The cool calm climate, gorges rolling tea plantation which makes the best "Ceylon tea" and the breathtaking beautiful waterfalls makes Nuwara Eliya one of the most beautiful town in the world. Nuwara Ealiya also has one of the finest 18 hole golf courses in South Asia.
Botanical Garden
Hakgala Botanical Garden is one of the five botanical gardens in Sri Lanka. It is the second largest garden in Sri Lanka. The garden is contiguous to Hakgala Strict Nature Reserve.Hakgala Botanical Garden is situated on the Nuwara Eliya-Badulla main road, 16 km from Nuwara Eliya. The garden has a cool temperate climate because of altitude is 5,400 feet above the sea level. The mean annual temperature ranges between 16 °C to 30 °C during course of a year. From December to February it has a cold climate, while the warm climate persists from April to August.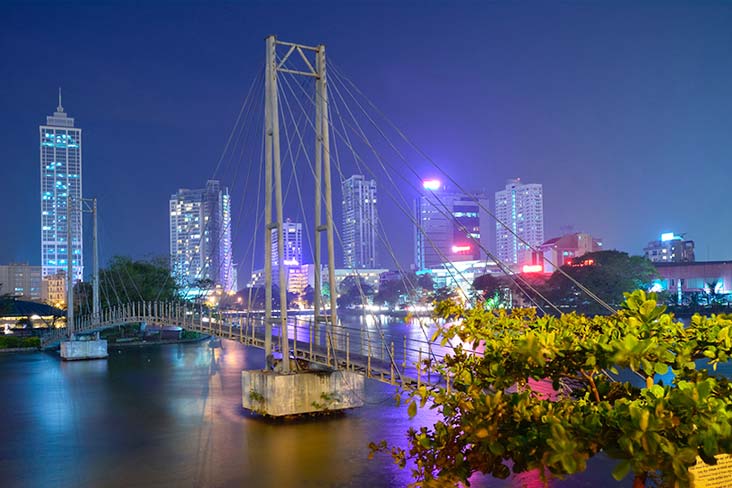 City Tour, Shopping
We can do a city tour of Colombo. Colombo is the commercial and business center of Sri Lanka located on west cost. The city blends together with old colonial type building, high-rise commercial buildings and hotels. For example, there is a 100-year-old clock tower. And the Bandaranaike Memorial International Conference Hall (BMICH) which was a gift to Sri Lanka from the People's Republic of China
Package Itinerary
Day 1Arrival / Anuradhapura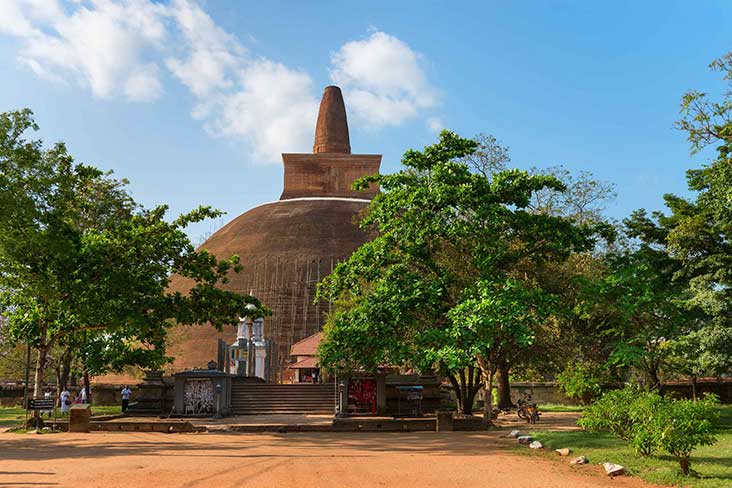 On arrival you will be met by our Guide and the Airport staff who will offer assistance. Continue to the tour of Anuradhapura, within Sri Lanka's rich cultural triangle. Anuradhapura is one of the holiest cities in Sri Lanka. The holiest item is the Bodhi Tree. This Bodhi tree is a sampling of the original Tree at which the Buddha sat as he attained enlightenment.
Dinner & Over Night Stay at Anuradhapura
Day 2Mihinthalaya / Polonnaruwa Ancient City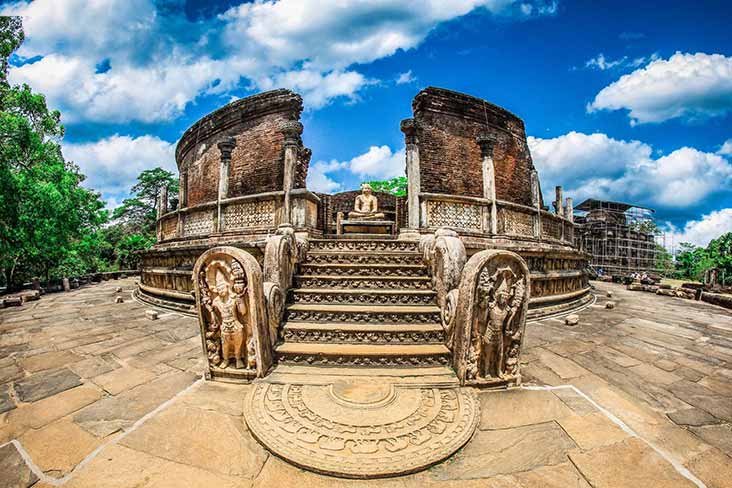 Breakfast at the hotel Mihintale is a mountain peak near Anuradhapura in Sri Lanka. It is believed by Sri Lankans to be the site of a meeting between the Buddhist monk Mahinda and King Devanampiyatissa which inaugurated the presence of Buddhism in Sri Lanka, after depart to Polanaruwa Tour This medieval city, a UNESCO World Heritage Site, rose to fame as the capital (10th – 12th century AD) after the decline of Anuradhapura , . In the afternoon you can choose to relax in the pool
Dinner & Over Night Stay at Habarana
Day 3Sigiriya Rock Palace / Jeep Safari in Minneriya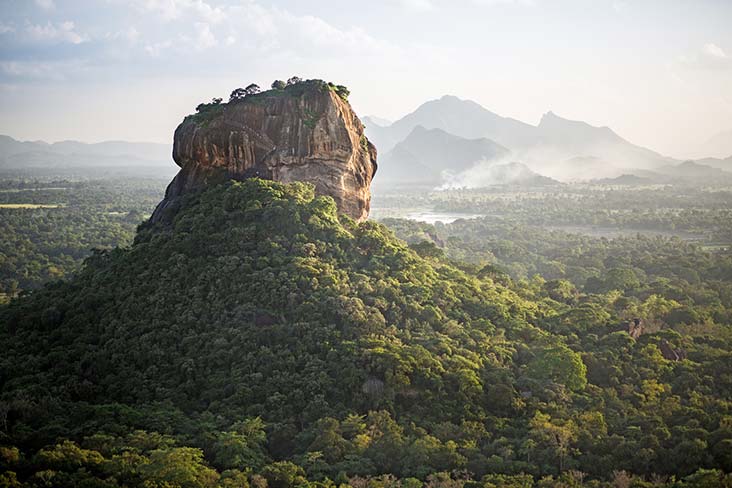 After Breakfast In the morning depart to the Lions Rock in Sigiriya, a UNESCO world heritage site adorning a palace on its peak. A must visit for anyone visiting Sri Lanka.If you're feeling energetic and have a head to the Safari at Minneriya National Park. Or Kaudulla
Dinner & over Night Stay at Habarana
Day 4Dambulla Cave Temple / Spice Garden / Cultural Show Kandy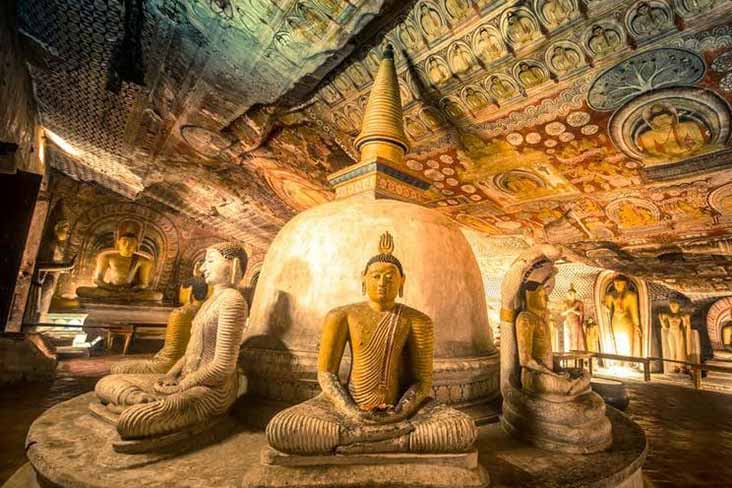 After breakfast proceed to Kandy, while visiting the Rock Cave Temple in Dambulla and Ayurveda herbal garden Matale an route. Later in the evening witness a Cultural Dance performance.
Dinner & over Night Stay at Kandy
Day 5Embekka Devalaya / Lankathilaka Temple / Gadaladeniya Temple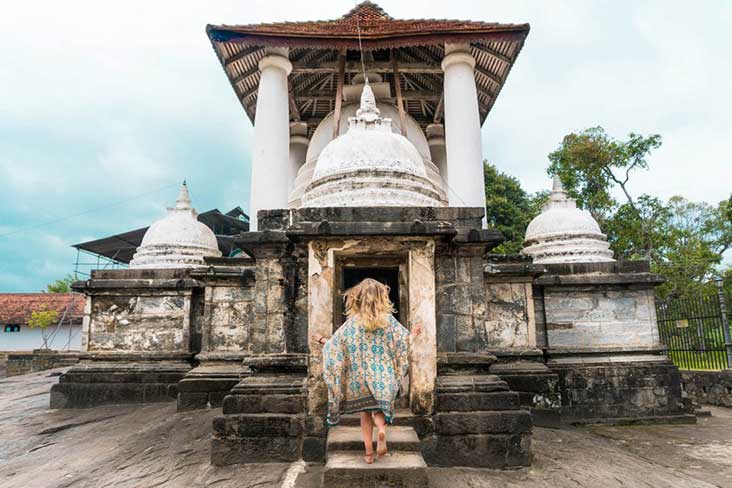 Breakfast at the hotel visit Embekka Devalaya and Lankathilaka Temple, after lunch Gadaladeniya Temple is located at Pilimathalawa, Kandy. When you are driving from Colombo to Kandy, Gadaladeniaya temple road is at your right hand side,
Dinner & over Night Stay at Kandy
Day 6Temple of the Tooth / Ramboda Waterfalls /Tea Plantation & Tea Factory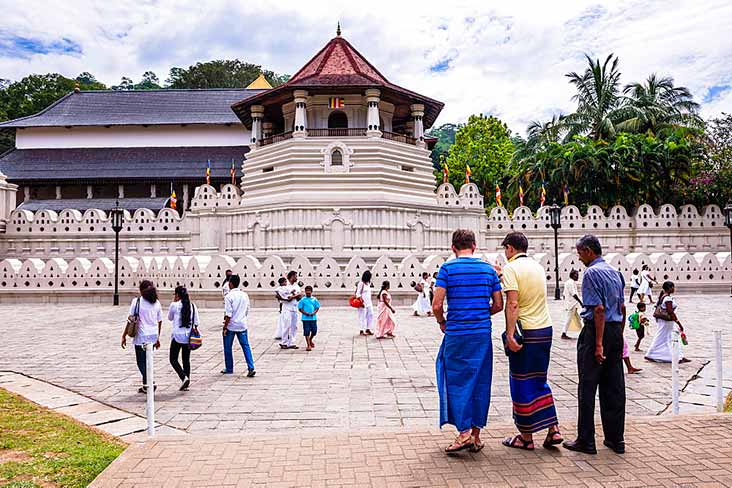 After breakfast which houses the tooth of Lord Buddha Visit a tea plantation and a tea factory, where the best tea in the world is produced. Here you could observe all about the process of manufacturing tea. You can also see how tea is graded. Taste a cup of pure Ceylon tea in the factory. Enjoy gorgeous vistas of the surrounding countryside before retreating to the warmth of your hotel.
Dinner & over Night Stay at Nuwara Eliya
Day 7Hakgala Botanical Garden
Breakfast at the hotel Surround yourself in the calm and beauty of the Royal Botanical Gardens, after breakfast visit the. Take to the misty mountains of Nuwara Eliya
Dinner & over Night Stay at Nuwara Eliya
Day 8Colombo City Tour / Shopping / Departure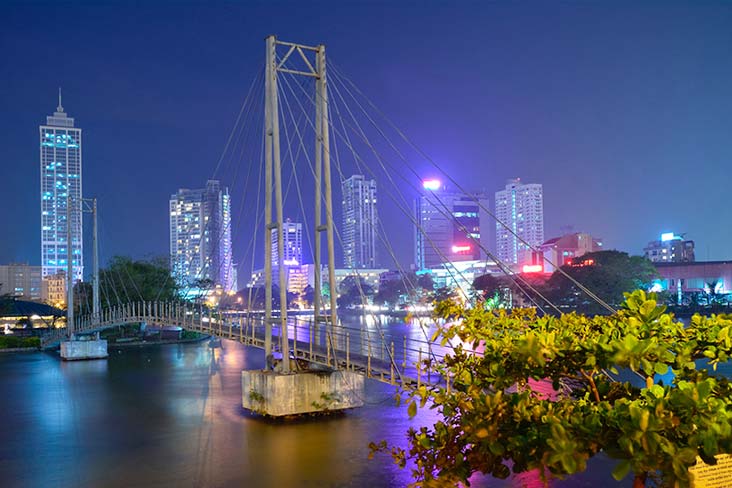 After breakfast proceed to Colombo. In the evening tour the city of Colombo and indulge in some last minute shopping. Proceed to the Airport in time for the connecting Flight