Inclusion
Private Tour Package (100% Tailor-made)
Transport in an Air-Conditioned Vehicle with an accompanying English speaking Chauffeur Guide
Daily Breakfast & Dinner as Specified above 6 days accommodation
Double, Twin or Triple Rooms as required by the traveler
All Government taxes and service charges
All Parking, taxes and fuel charges etc.

Exclusion
Early check-in & Late check-out
Entrance/excursion fees to the places mentioned in our itinerary
Tips and other expenses of a personal nature
Visas and travel insurance
Spending money – budget for meals, snacks, drinks, limited souvenirs, laundry, tips and any extras
International flights to/from the start/end of your tour and departure taxes

Attraction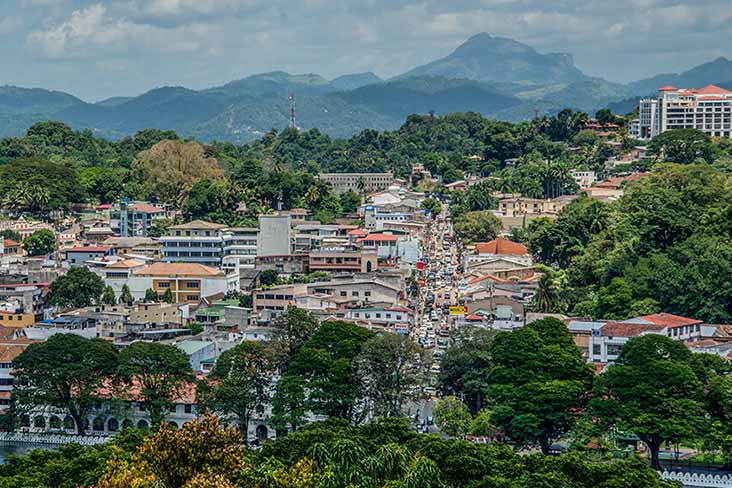 Kandy City, Udawatta Kele Sanctuary, Museum, View Point
Kandy is a major city in Sri Lanka, located in the Central Province Sri Lanka. It is the second largest city in the country after Colombo. It was the last capital of the ancient kings' era of Sri Lanka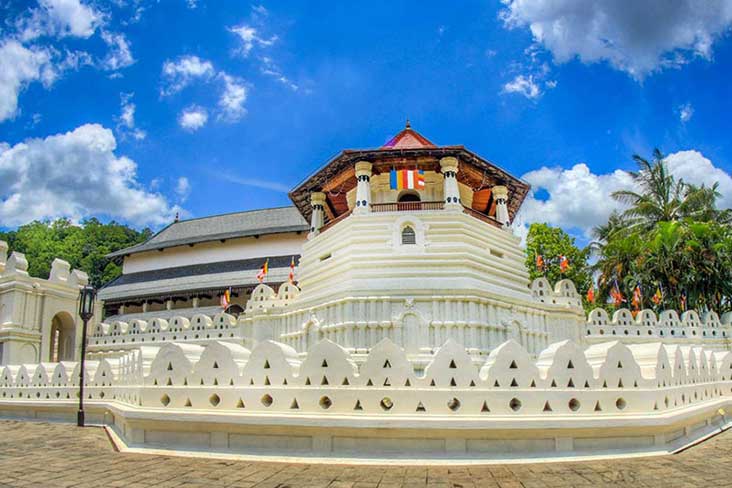 Temple of the Tooth, Museum, Devala
Temple of the Sacred Tooth Relic is a Buddhist temple in the city of Kandy Sri Lanka. It is located in the royal palace complex of the former Kingdom of Kandy, which houses the relic of the tooth of Buddha.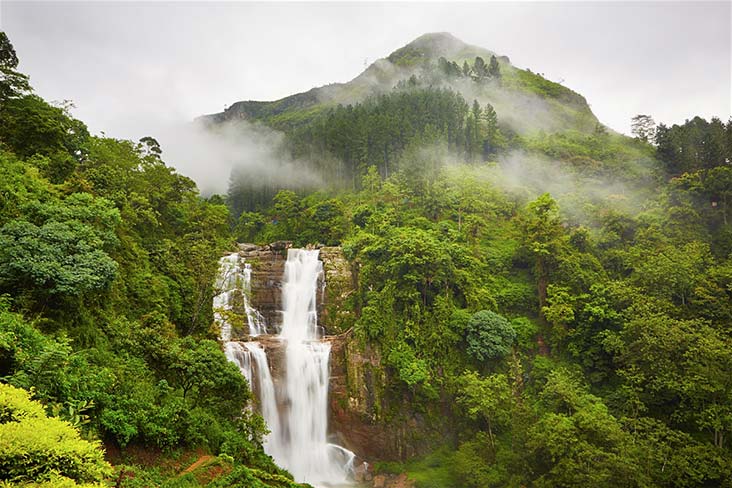 Waterfalls
Ramboda Falls is 109m high and 11th highest waterfall in Sri Lanka and 729th highest waterfall in the world. It is situated in Pussellawa area, on the A5 highway at Ramboda Pass. It formed by Panna Oya which is a tributary of Kothmale Oya. Altitude of the falls is 945m above sea level.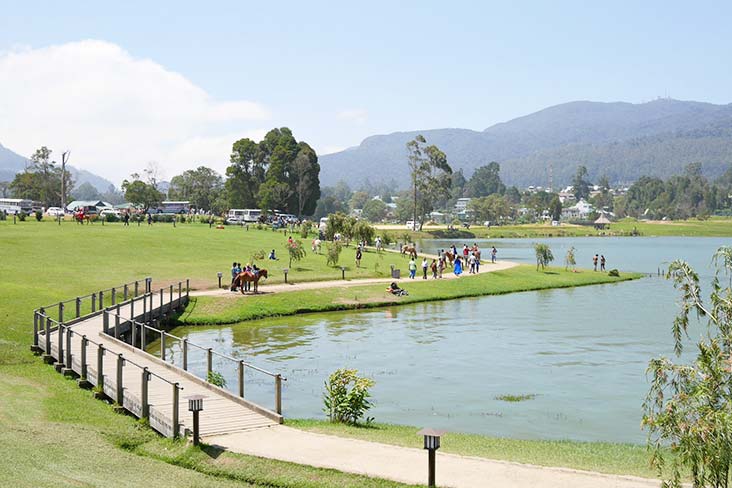 City Tour, Gregory Lake, Horse Ride, Golf Club, Victoria Park
Nuwara Eliya is located at the heart of the hill country 6182 feet above from the sea level. It is still very much like an old English town with styled Bungalows and buildings. The cool calm climate, gorges rolling tea plantation which makes the best "Ceylon tea" and the breathtaking beautiful waterfalls makes Nuwara Eliya one of the most beautiful town in the world. Nuwara Ealiya also has one of the finest 18 hole golf courses in South Asia.
Hortain Plains / World's End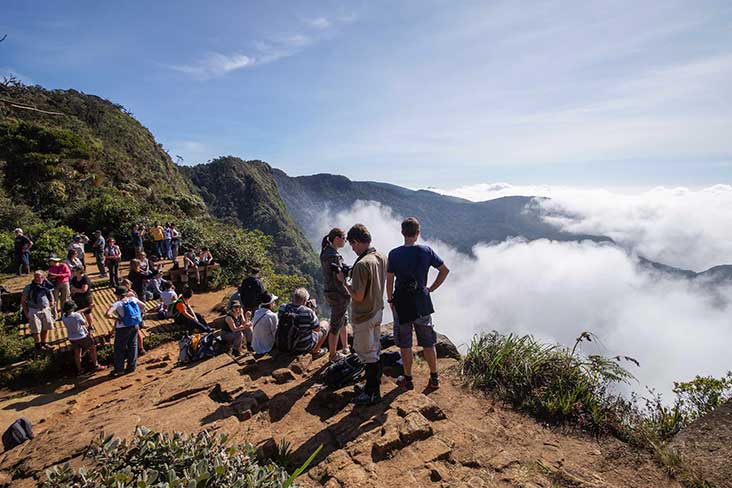 National Park, World's End
Horton Plains National Park is a protected area in the central highlands of Sri Lanka and is covered by montane grassland and cloud forest. This plateau at an altitude of 2,100–2,300 metres (6,900–7,500 ft) is rich in biodiversity and many species found here are endemic to the region. This region was designated a national park in 1988.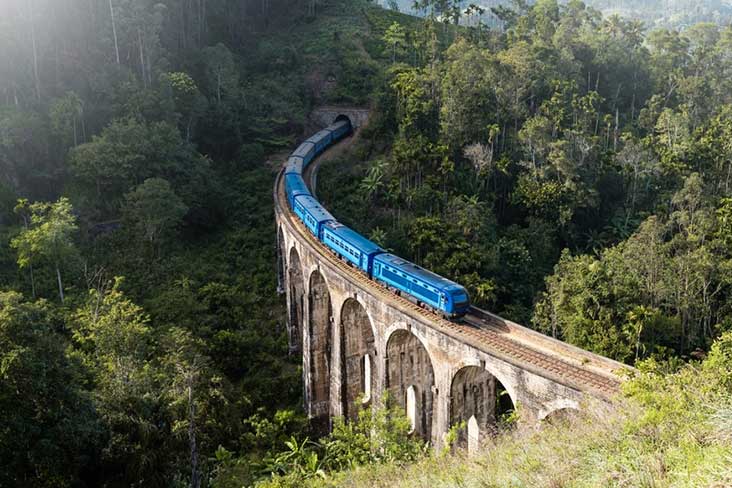 Tea Plantation, Waterfalls, Mountain
Enjoy a scenic train ride towards the hill country of Sri Lanka. Indulge sight and senses in the amazing surrounding of lush green mountain sides, tea plantations and the cool climate.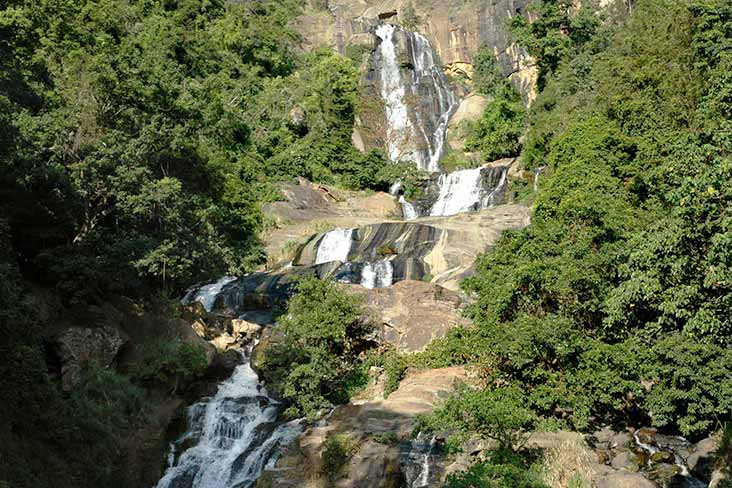 Waterfalls , Legendary
This waterfall measures approximately 25 m (82 ft) in height and cascades from an oval-shaped concave rock outcrop. During the local wet season, the waterfall turns into what is said to resemble an area flower with withering petals,The falls have been named after the legendary king Ravana, which is connected to the famous Indian epic, the Ramayana. According to legend, it is said that Ravana (who was the king of Sri Lanka at the time) had kidnapped princess Sita, and had hidden her in the caves behind this waterfall, now simply known as the Ravana Ella Cave.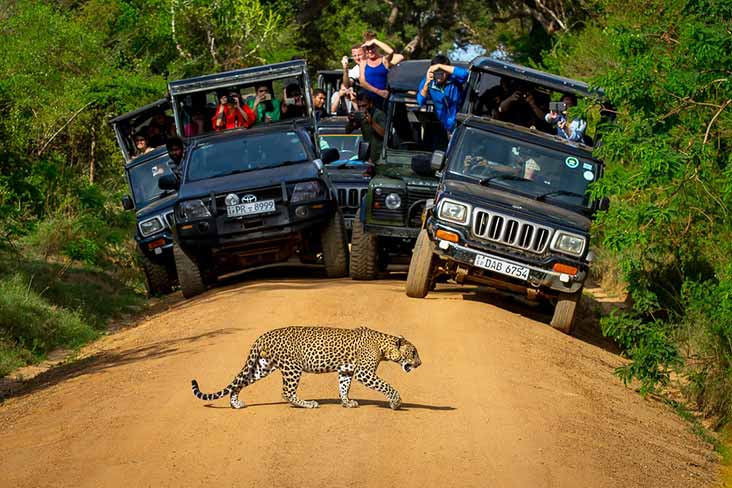 Yala National Park
Yala National Park is also known as the Ruhunu National Park and is one of the biggest jungles in the country. Set in the southeast of Sri Lanka, it is a 305 km drive from Colombo. Elephants are the Park's main attraction although leopards are seen frequently and sloth the bear occasionally. Yala is also home to hundred species of birds, endemic and foreign, including the jungle fowl, Sri Lanka's national bird, and flocks of peacocks. Yala also has a beach front and swamps haunted by crocodiles.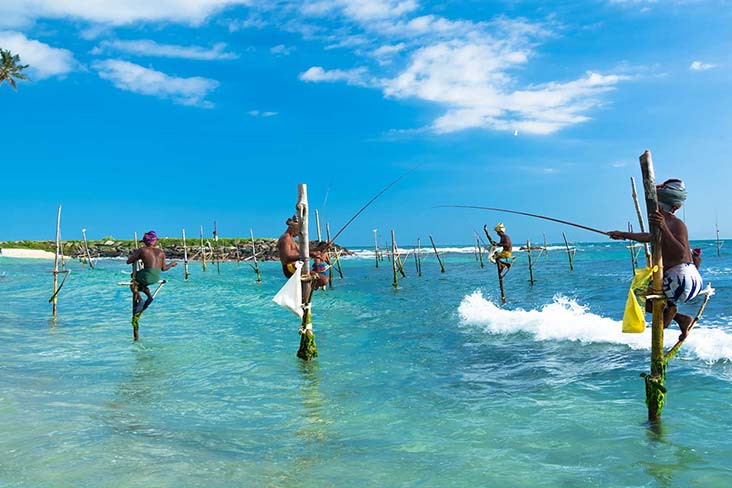 Stilt Fishing Village
This is no ordinary fishing, there might be several methods of catching a fish but this one is mind-boggling. Fishermen in Sri Lanka use stilts to catch a fish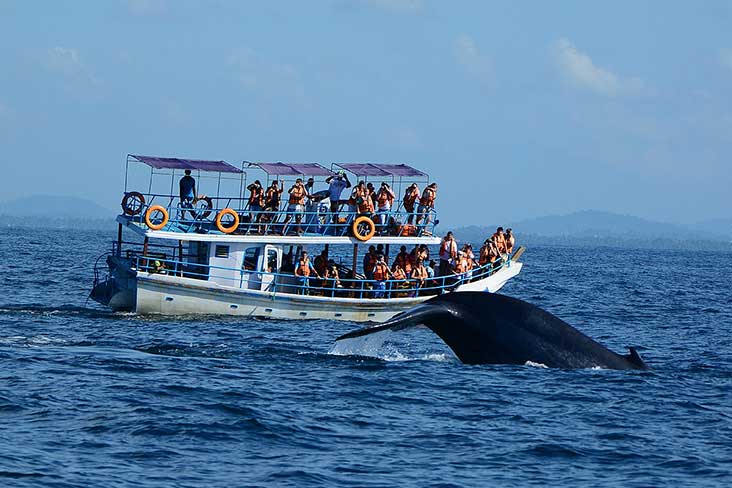 Blue Wahales, Dolphin
Whale and dolphin watching in Mirissa is one of the most exciting water activities you can do in Sri Lanka during your holiday.
Package Itinerary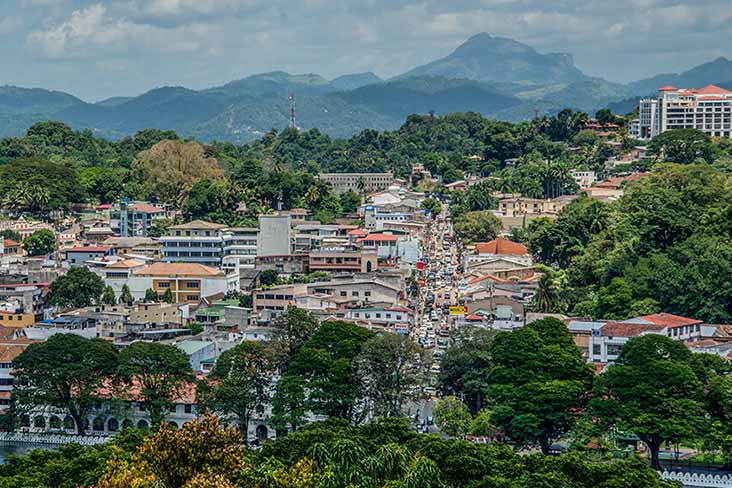 On arrival at the Bandaranaike International Airport, you will be met by our GARI Tours representative and transfer to hill capital Kandy
Dinner & Over Night Stay at Kandy
Day 2Kandy City Tour / Temple of Tooth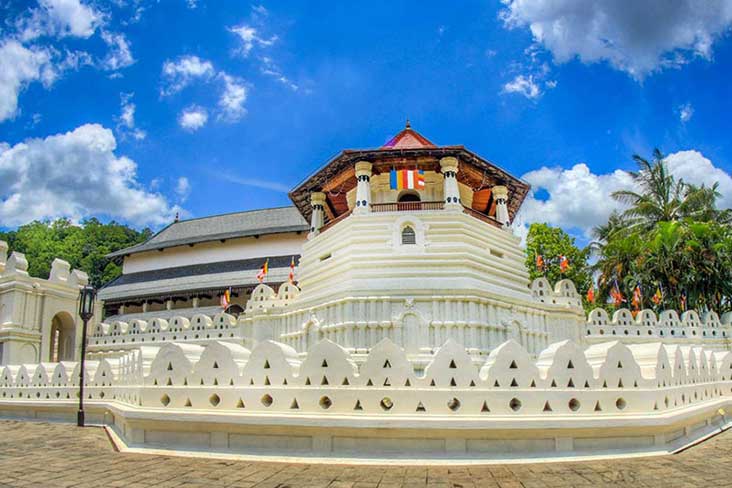 After breakfast spend the day at leisure before setting off in the afternoon to take a tour of Kandy town and visit the Temple of the Tooth
Dinner & Over Night Stay at Kandy
Day 3Tea Plantation & Tea Factory / Ramboda Waterfalls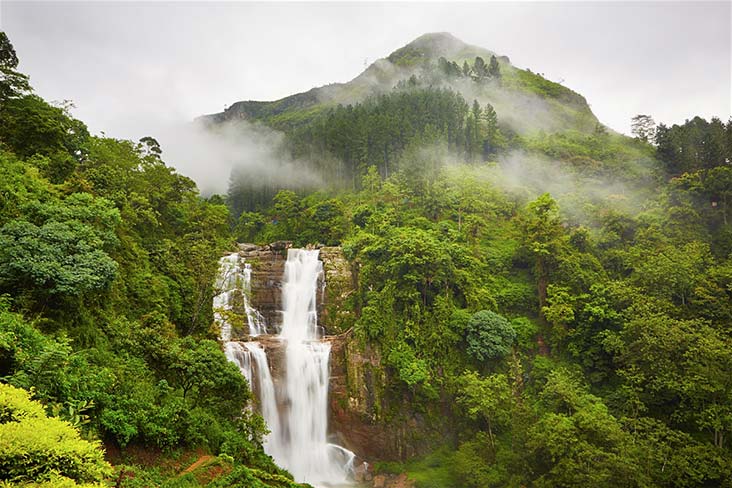 After breakfast proceed to Nuwara Eliya, this drive takes around two and a half hours through the scenic country side. In the afternoon take a tour of the colonial town of Nuwara Eliya. Have a brief insight into how the world famous Ceylon Tea is created at a tea factory and plantation site.
Dinner & over Night Stay at Nuwara Eliya
Day 4Trekking Horton Plains National Park / World's End / Bakers Fall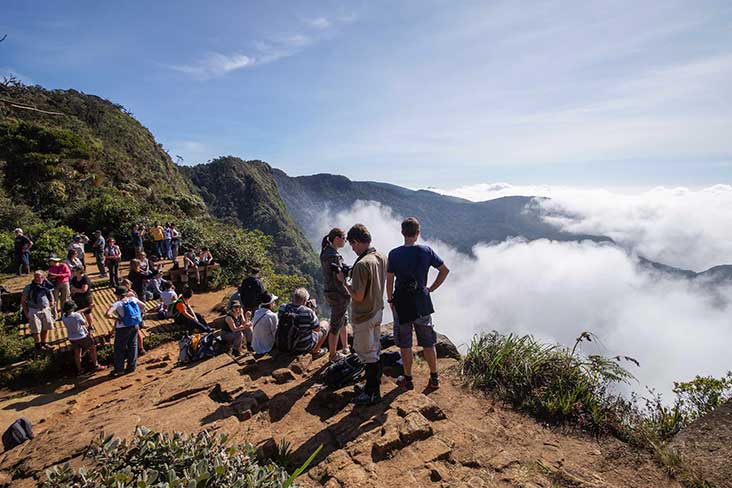 In the morning you have the option of heading to Horton Plains on a beautiful, scenic trek. This consists of a visit to Worlds End as well as Bakers Fall. Return in the afternoon and spend the rest of the day relaxing.
Dinner & over Night Stay at Nuwara Eliya
Day 5Train Ride to Ella / Ravana Waterfalls / Udawalawe National Park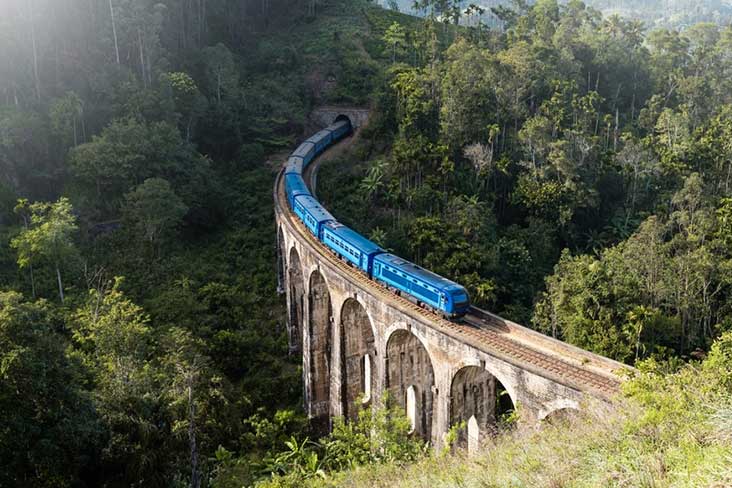 After breakfast proceed to Nanu Oya Train station to conduct a train journey to Ella. Conduct Evening safari at Udawalawe National Park. Surrounded by mountain ranges, the terrain of the park is a mixture of grassland, shrub jungle, wild teak plantations and two important factors which make this park special - the large Udawalewe Reservoir and the Walewe River, which ensure a supply of water for the fauna within Once you're done with the safari proceed to Yala
Dinner & over Night Stay at Yala –Thisamaharama
Day 6Yala Safari / Stilt fishing Village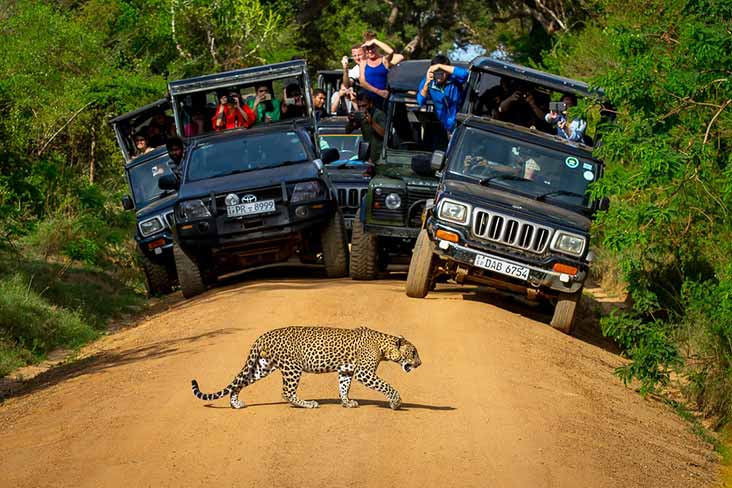 Early morning, enjoy a game drive at the Yala National Park. Experience the majestic creatures of the wild in their natural habitat. An exciting experience that is not to be missed. In the afternoon proceed to Mirissa
Dinner & over Night Stay at Mirissa
Day 7Whales Watching - Mirissa / Departure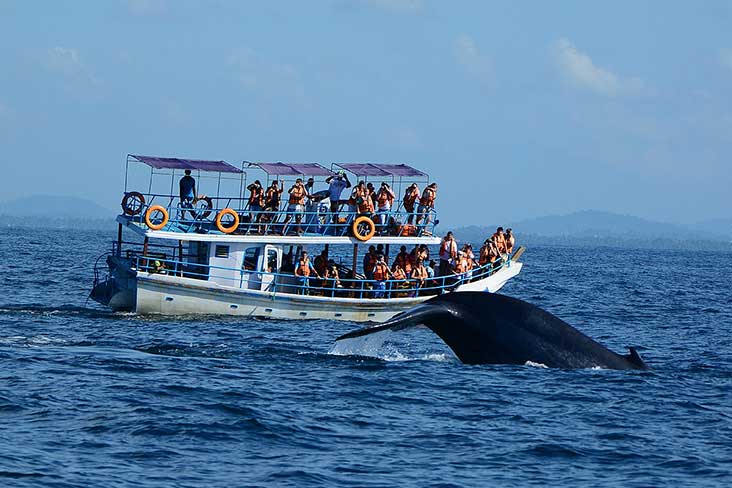 Leave for an early morning whale watching excursion. This is a must do for those visiting the country as Sri Lanka is considered one of the best locations in Leave for an early morning whale watching excursion. This is a must do for those visiting the country as Sri Lanka is considered one of the best locations in the world for Whale and Dolphin watching. Thereafter proceed to the Airport in time for the connecting flight.