Inclusion
Private Tour Package (100% Tailor-made)
Transport in an Air-Conditioned Vehicle with an accompanying English speaking Chauffeur Guide
Daily Breakfast & Dinner as Specified above 9 days accommodation
Double, Twin or Triple Rooms as required by the traveler
All Government taxes and service charges
All Parking, taxes and fuel charges etc.

Exclusion
Early check-in & Late check-out
Entrance/excursion fees to the places mentioned in our itinerary
Tips and other expenses of a personal nature
Visas and travel insurance
Spending money – budget for meals, snacks, drinks, limited souvenirs, laundry, tips and any extras
International flights to/from the start/end of your tour and departure taxes

Attraction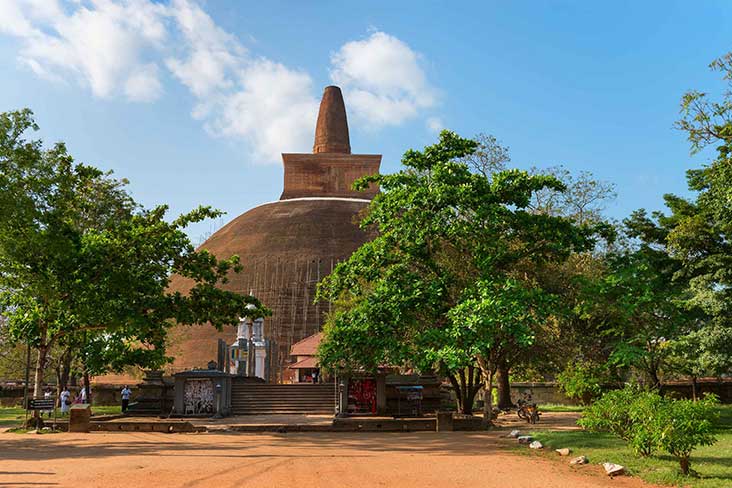 Ruwanweliseya, Sri Maha Bodiya, Jetavanaramaya, Abhayagiriya
Anuradhapura is the most celebrated of Sri Lanka's ancient ruined cities. The city's greatest treasures are its dagabas constructed of small sun-dried bricks and hemispherical in shape. The most notable of these dagabas are the Ruvanveli which dates back to the 2nd Century BC and is 3 00ft in diameter, the Jetawanarama is 370ft and the Thuparama which enshrines the collarbone of the Buddha. The city's most renowned relic is the sacred Bo-Tree which is said to have grown from a branch of the tree under which the Buddha gained enlightenment. It was planted 2250 years ago and is the oldest historic tree in the world.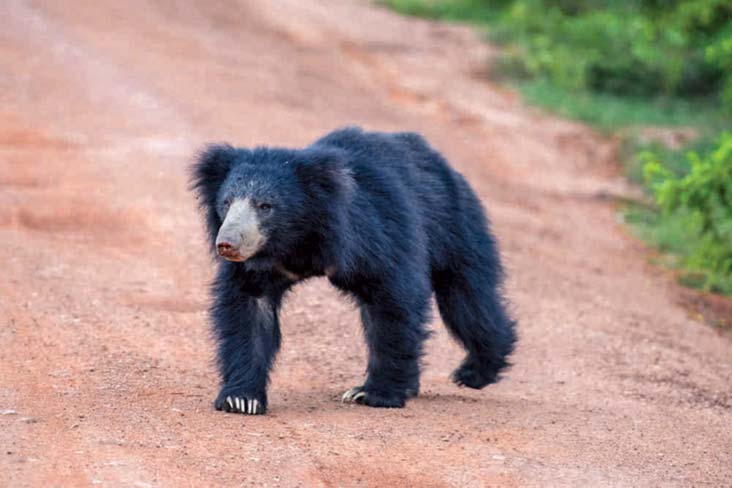 National Park
Wilpattu National Park is located in the north west of the dry zone of the island with a long coastal boundary. It is approximately 180 km north of Colombo. Wilpattu is reputed to have the highest density of leopards in the world. The park is also home to elephants, spotted deer, boars and mongooses. The jungle fowl, the national bird of Sri Lanka, and many species of owls, gulls, eagles are also found in the Park.
Sigiriya Rock Palace (Lion Rock)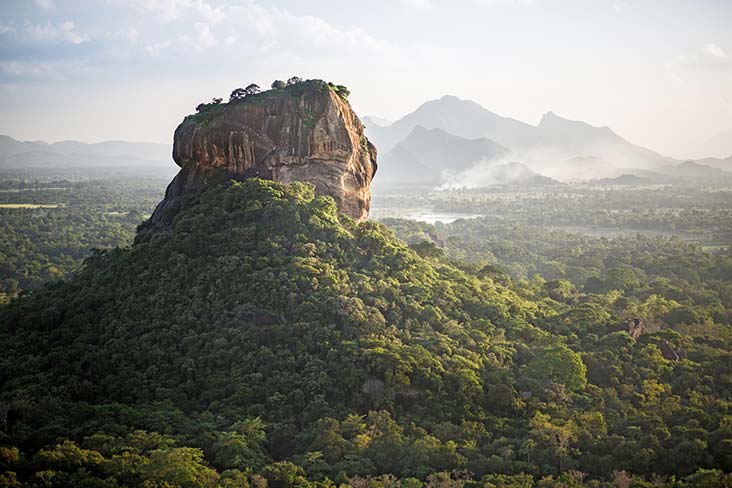 Sigiriya Lion Rock, Museum
Sigiriya is treated as one of the most remarkable creations in the world, built by King Kashyapa (477-495 AD). Path through the gardens along Stone stairways come to the Lion Gate. Only the rock carving and the brick structure is evident today of the lion's mouth through which millions of people have walked to admire the beauty of this magnificent citadel.
Whales Watching Trincomalee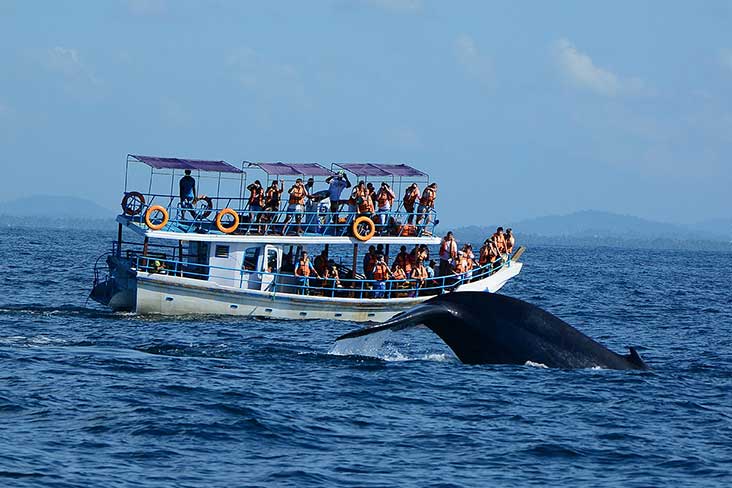 Blue Wahales, Dolphin
Whale and dolphin watching in Trincomalee is one of the most exciting water activities you can do in Sri Lanka during your holiday.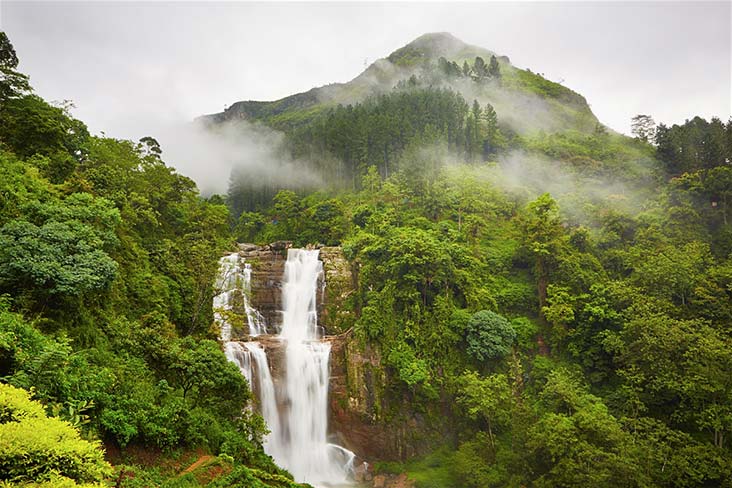 Waterfalls
Ramboda Falls is 109m high and 11th highest waterfall in Sri Lanka and 729th highest waterfall in the world. It is situated in Pussellawa area, on the A5 highway at Ramboda Pass. It formed by Panna Oya which is a tributary of Kothmale Oya. Altitude of the falls is 945m above sea level.
City Tour, Gregory Lake, Horse Ride, Golf Club, Victoria Park
Nuwara Eliya is located at the heart of the hill country 6182 feet above from the sea level. It is still very much like an old English town with styled Bungalows and buildings. The cool calm climate, gorges rolling tea plantation which makes the best "Ceylon tea" and the breathtaking beautiful waterfalls makes Nuwara Eliya one of the most beautiful town in the world. Nuwara Ealiya also has one of the finest 18 hole golf courses in South Asia.
Hortain Plains / World's End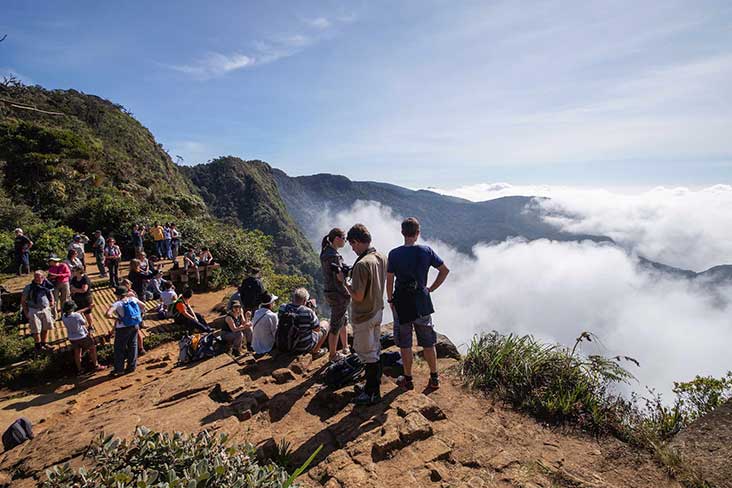 National Park, World's End
Horton Plains National Park is a protected area in the central highlands of Sri Lanka and is covered by montane grassland and cloud forest. This plateau at an altitude of 2,100–2,300 metres (6,900–7,500 ft) is rich in biodiversity and many species found here are endemic to the region. This region was designated a national park in 1988.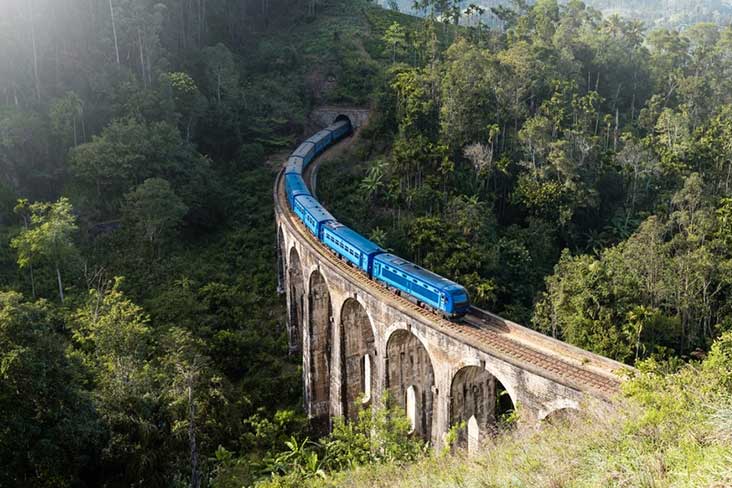 Tea Plantation, Waterfalls, Mountain
Enjoy a scenic train ride towards the hill country of Sri Lanka. Indulge sight and senses in the amazing surrounding of lush green mountain sides, tea plantations and the cool climate.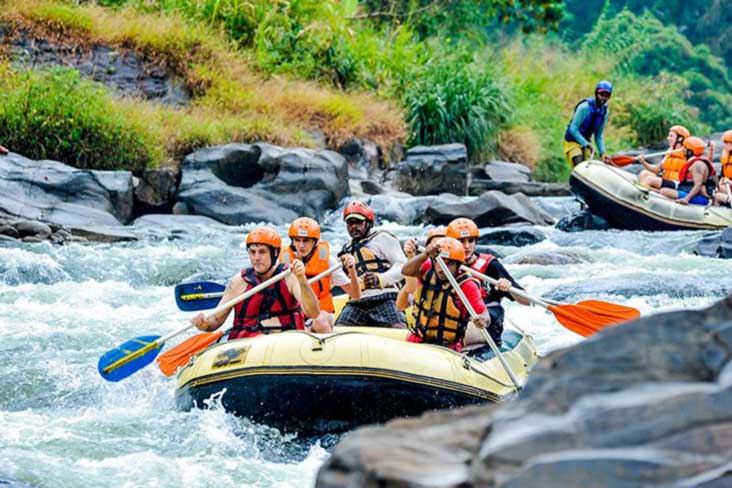 Rafting, Waterfall Sliding, Waterfall Abseiling
Enjoy the beautiful scenery, play in the river, Jungle Walks, Adventurous water fall jumps / slides, White Water Rafting and have excellent rice and curry lunch at the local restaurants. Inside the jungles of Kitulgala there are plenty of camping opportunities which can be coupled with White Water Rafting, Bird Watching Jungle Walks, River bathing and many adventure activities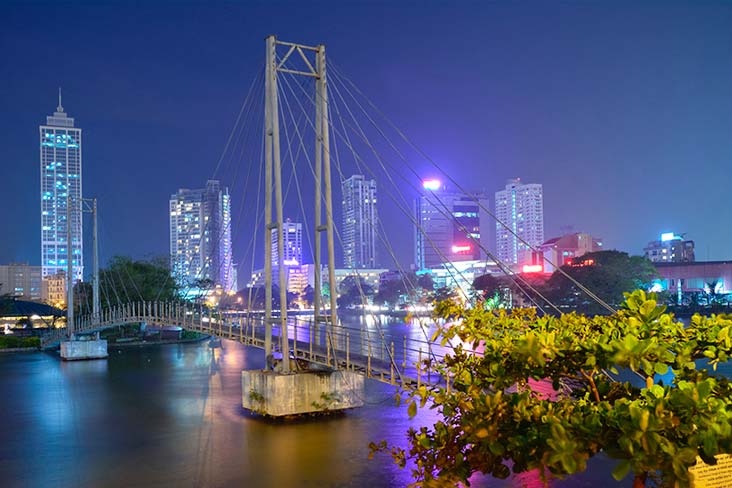 City Tour, Shopping
We can do a city tour of Colombo. Colombo is the commercial and business center of Sri Lanka located on west cost. The city blends together with old colonial type building, high-rise commercial buildings and hotels. For example, there is a 100-year-old clock tower. And the Bandaranaike Memorial International Conference Hall (BMICH) which was a gift to Sri Lanka from the People's Republic of China
Package Itinerary
Day 1Arrival / Anuradhapura Stay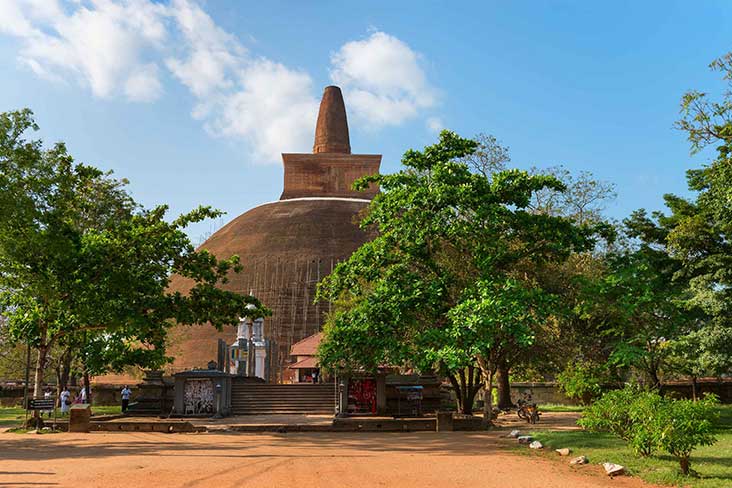 After the arrival meet GARI Representative/Guide at the airport arrival lobby & Welcome there.
Proceed to Ancient Anuradhapura
Enjoy local attraction with Local fruit taste/tea/coffee breaks
Dinner & Over Night Stay at Anuradhapura
Day 2Wilpattu National Park Safari / Sigiriya Stay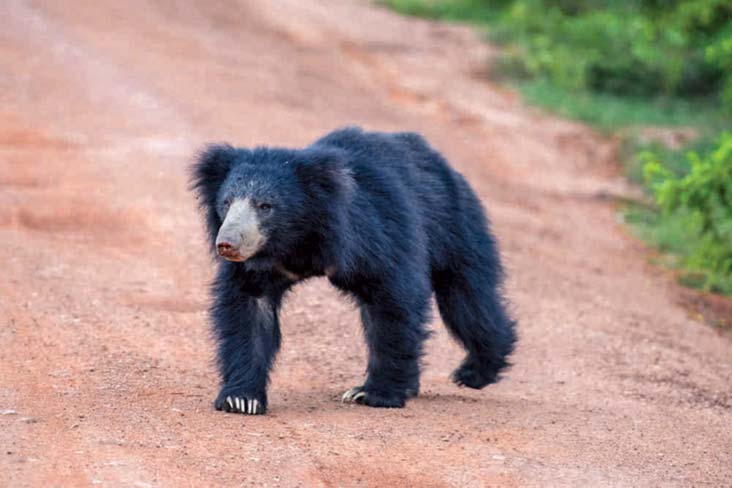 Early Morning Proceed to Safari @ 5.30am: 4x4 Jeep arrive your Hotel to pick-up & around 4hours Jeep Safari in Wilpattu National Park
Enjoy local attraction on the way to Sigiriya
Dinner & Over Night Stay at Sigiriya
Day 3Sigiriya Visit / Pidurangala Rock Climb / Wasgamuwa Jeep Safari in National Park / Sigiriya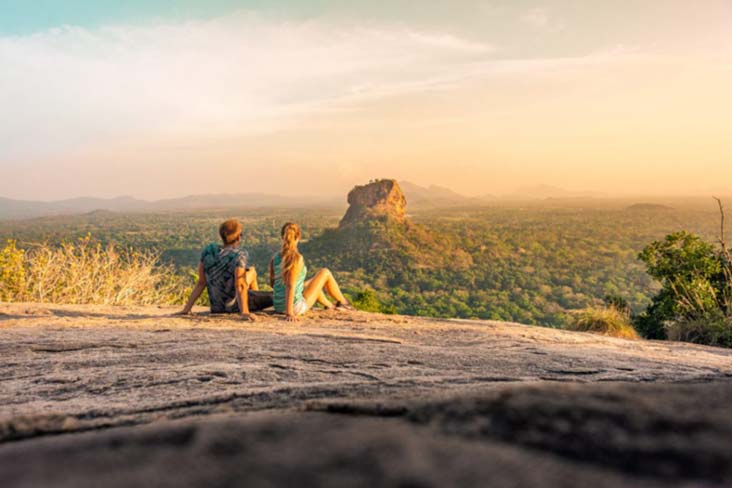 Proceed to Sigiriya, the hub of the cultural triangle
Pidurangala Rock, volcanic hills rising out of the lowland jungles and central plains
Lunch & Tour at Trekking Village Hiriwaduna, Enjoy the farmer's humble hospitality.
Wasgamuwa Jeep Safari in National Park Elephants gathered is numbering around 150-350. Experience Safari Game Driver 4x4 Jeep arrive your Hotel to pick-up
Dinner & over Night Stay at Sigiriya
Day 4Trincomalee Transfer Whale and Dolphin Watching / Pigeon Island / Trincomalee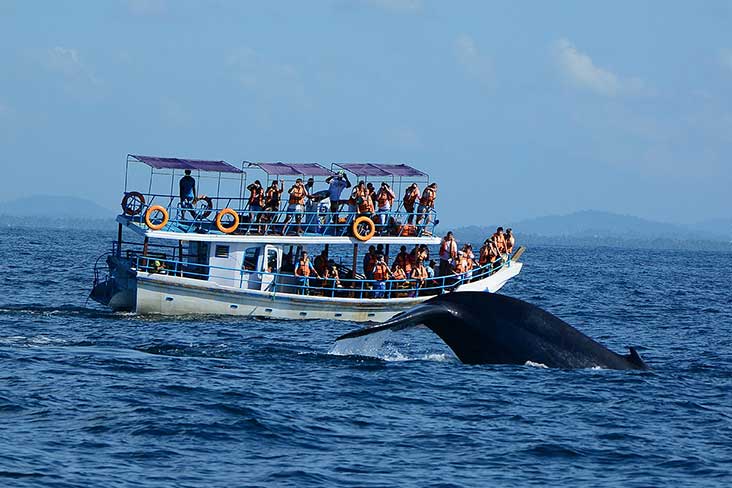 Early morning Proceed to Trincomalee Natural Harbor @ 5.00am: This is exciting and unique activities in Trinco, Blue whales, Sperm whales and Spinner dolphins are the main 03 marine lives can be spot
Pigeon Island visit: marine national parks & considered as one of the finest beaches
Leisure in Nilaveli Beach & Over Night Stay
Day 5Tea Plantation & Tea Factory / Nuwara Eliya Stay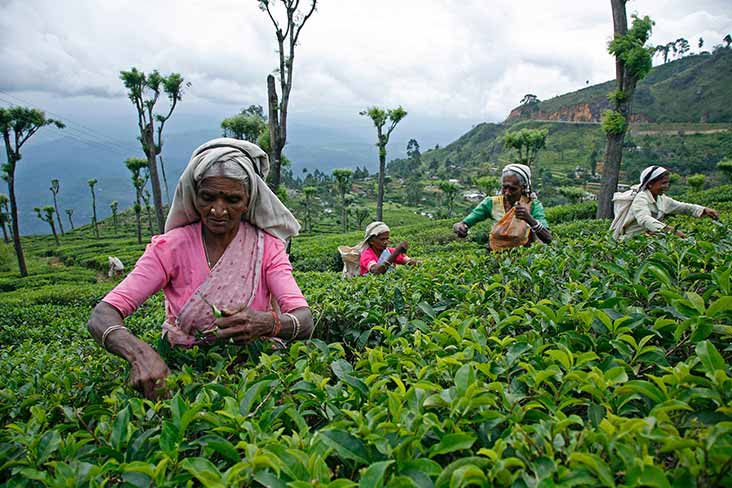 Proceed to Nuwara Eliya Stay
On the way Visit Ramboda Falls
Visit to a Tea Factory/ Plantation: Green hill country is a patchwork of rolling, seemingly endless tea plantations and explore our full range of things, exploring the process behind Ceylon tea
Dinner & over Night Stay at Nuwara Eliya
Day 6Horton Plains Trekking / Train Ride Ohiya to Ambewela / Nuwara Eliya Stay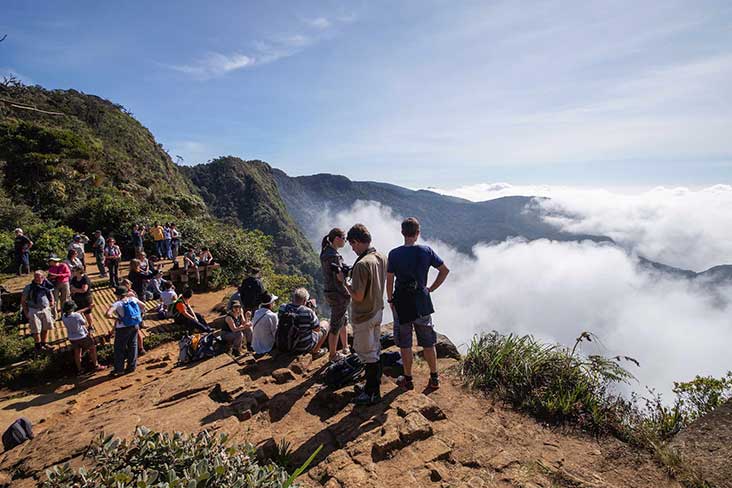 In early morning @ 5.30am transfer to Hortain Plains (This 14Km Trekking experience)
See Baker's Fall is a famous waterfall in Sri Lanka.
Scenic Train Ride Ohiya to Ambewela: time - 12:50 or 14.30 pre or post book as per availability
Dinner & over Night Stay at Nuwara Eliya
Day 7 & 8Ella Rock / Little Adampeak / Thangamale Sanctuary / Nine Arch Bridge / Ella Stay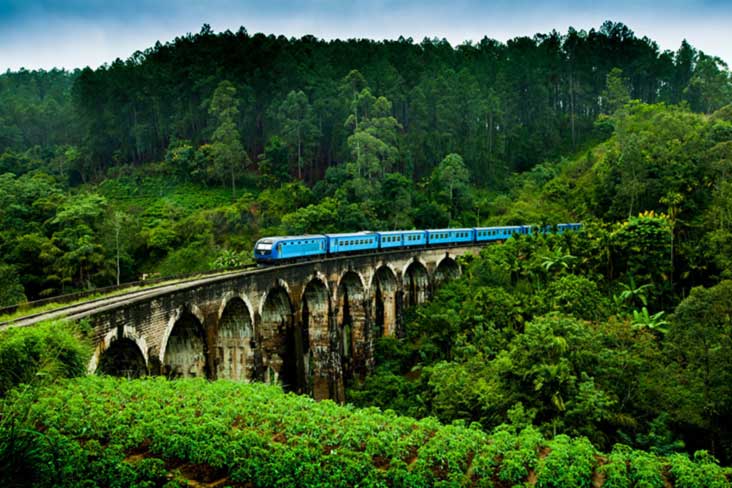 Proceed to Ella & on the way take Lunch, this 02 days enjoy in ella
Ella is only a small village located high in the mountains. Most visitors spend time on to Ella because of Nature.
Visit: Little Adams Peak, Ella Rock, Ravana Waterfall, Demodara Nine Arch Bridge
Proceed to Airport in time for the connecting Ella.
Day 9Kithulgala White Water Rafting / Colombo City Tour / Departure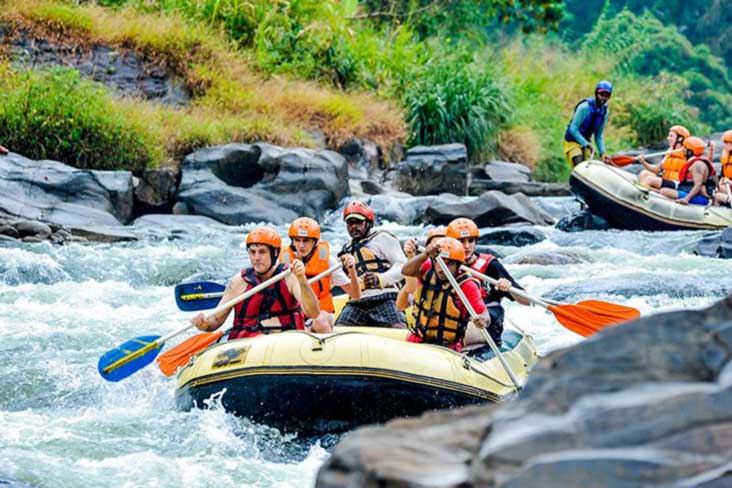 Kitulgala area is famous among adventure lovers travelling from all over the world specifically for White Water Rafting and number of other adventurous activities.
Snap tour the city of Colombo and indulge in some last minute shopping.
Drop to airport, for departure